Hi,
I came across a project on Instructables and want to do something similar, but I'm struggling to find the font. I've tried various searches and sifting through databases of fonts with no joy.
This is the link to the Instructable
And here's a screenshot of one of the characters from it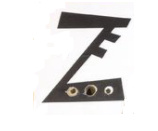 I'm hoping somebody here can recognise the font and help me out!
Thanks