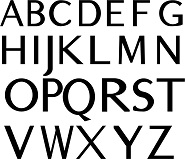 What is this font, anybody ? Looks like Optima but it's not. Has the bar in the G, Middle vertical in the W meets at a T.
It was used on the Compugraphic 7500 in the 1980's.
It was used in the Tunnels and Trolls 5th Edition Rules before they switched to Optima.
I've asked the original typesetters, they thought it was CG Omega but it isn't.
I have searched literally through 10000+ fonts and done the whole identifont and matcherater things.
Looks like a serifless Times Roman.
The italic set that goes with it has a single storey g and a but the main font has a double storey a and g.